Applied Power's high power density adapters "Light Up" medical devices
Author:Applied Power Date:2020-02-24 13:01:05
Applied Power is releasing a series of medical power adapters: the output from 60W to 300W, standard IEC320 inlet, class I and class II, IEC60601-1 certified.These high density power adapters are suitable for many types of medical devices including ultrasounds,endoscopes,medical imaging devices,diagnostic instruments,respirators,patient monitors and other medical devices.
Previously output of power adapters were usually under 100W due to the limitation of power technology and the engineers had to use internal power supplies inside the medical devices. Hereby the engineers had to spend a lot of time and resources on mechanical design, heat dissipating and EMC issues. Today high power adapters appear in the market and it will simplify engineer's work and reduce the cost on power solutions. Applied Power uses advanced power technology to increase power efficiency which makes super high power adapters come true. We now offer 60-300W medical desktop powers. Unlike the old generation power adapters, Applied Power's all adapters are level VI efficiency compliance. These high density and cost effective medical adapters will help our customers improve their competitive advantage and reduce time to market.
Medical desktop features: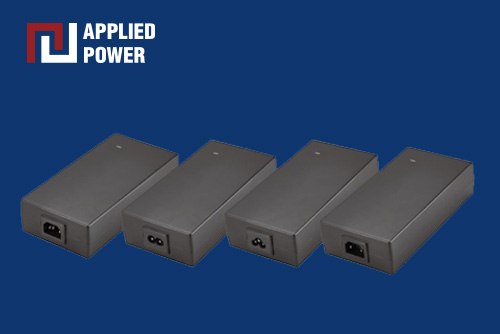 IEC60601-1( optional IEC60601-1-11)

60W-300W output

IEC 320 C14 C8 C6 C18 inlet

DOE Level VI

Universal 90VAC~264VAC input

OCP,OVP,OTP

>500kHour MTBF

2MOPP Isolation

LED indicator
For more information, please contact sales@appliedpsu.com.